A sinus lift, also known as a sinus augmentation, is a surgical procedure that is performed to add bone to the jaw in the area of the molars and premolars in the upper jaw, where the bone may have receded due to tooth loss, periodontal disease or other reasons. The sinus lift involves lifting the sinus membrane and adding bone graft material to the sinus floor. This new bone graft allows more bone volume for the placement of dental implants to support the replacement of missing teeth.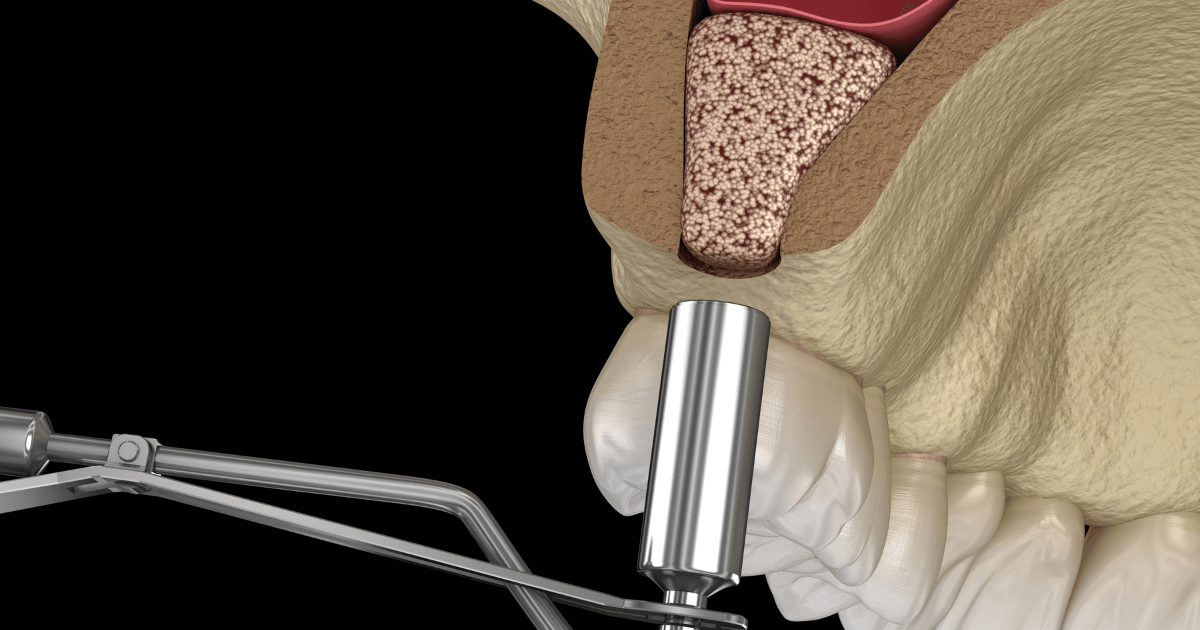 The procedure for a sinus lift typically involves the use of local anesthesia, and may require sedation or general anesthesia in some cases. The dental professional will make a small incision in the gum tissue, then gently lift the sinus membrane to create space for the bone graft material. Once the graft material is placed, the incision will be closed and allowed to heal.
After the procedure, patients may experience some discomfort, swelling, and bleeding, as well as congestion or slight nosebleeds. Pain medication and saline nasal spray may be recommended by the dental professional to manage these symptoms and promote healing.
Sinus lifts can help patients with inadequate bone thickness and density in their upper jaw to have dental implants placed, expanding their dental restorative options. While the healing process can be lengthy, the result is often significant, improved oral function and aesthetics.
Tooth replacement procedures such as dental implants rely on healthy bone tissue, and a sinus lift can help provide a solid foundation for successful restoration.
Does a sinus lift change facial appearance?
While a sinus lift procedure does not typically change facial appearance, it can help to improve the structure and function of the mouth and jaw by creating a more stable foundation for dental implants or dentures.
During a sinus lift, the oral surgeon or periodontist places bone tissue into the sinus cavity located in the upper jaw, allowing for the implants or dentures to be placed in the jawbone securely. This additional bone can help replace any bone loss caused by missing teeth, provide more support for the teeth, and prevent further bone loss.
While there may be some swelling and bruising following a sinus lift procedure, it is typically localized to the treatment site and will resolve within a few days to a week after the procedure. The procedure itself does not generally involve changes to the patient's facial structure or appearance.
A sinus lift procedure is not performed for cosmetic purposes, and changes to facial appearance are not a usual side effect of the procedure. Its primary goal is to provide a stable foundation for dental implants or dentures, improving the patient's oral function and overall quality of life. Experience that matters
Periodontics & Implant Surgery
How painful is a sinus lift?
The pain level after a sinus lift varies depending on the individual and the type of surgery. Some people may experience mild discomfort, while others may have more severe pain. Your doctor will likely prescribe painkillers and antibiotics to help you manage the pain and prevent infection[6]
What are some long-term side effects of sinus lift?
While the procedure is generally considered safe and effective, there are some potential risks and side effects associated with it, particularly in the long-term. These include:
1. Sinus infection: Sinus lift surgery involves opening up the sinuses, which increases the risk of sinus infections in the long-term.
2. Sinus inflammation: In some cases, the sinus membranes may become inflamed after a sinus lift, which can cause discomfort, pain, and headaches.
3. Failure of dental implant: In some cases, dental implants placed after sinus lift surgery may fail to integrate with the surrounding bone, leading to implant failure and the need for additional dental work.
4. Nerve damage: A sinus lift can damage nerves in the surrounding area, leading to numbness, tingling, or loss of sensation in the face, teeth, or gums.
5. Tooth root damage: In rare cases, a sinus lift can damage nearby tooth roots, potentially causing tooth decay or tooth loss.
6. Bone loss: Over time, the grafted bone material used in a sinus lift surgery may gradually decay or become reabsorbed by the body, leading to a loss of bone density in the area.
It is important to discuss the potential risks and side effects of sinus lift surgery with Dr. Reece Cochran before undergoing the procedure. With proper care and follow-up, many of these risks can be minimized or avoided altogether.
What is a common sinus lift recovery experience?
The recovery period for a sinus lift is six months, after which implants can be added successfully.
You can expect some discomfort, swelling, and bleeding from the nose and mouth for the first week after the surgery. You should also avoid blowing your nose, sneezing, and brushing your teeth for a while.
During this time, it is important to maintain proper oral hygiene and attend regular check-ups to ensure the success of the procedure. If you experience any unusual pain or symptoms, it is important to call Dr. Cochran immediately at 719-569-5959.
OFFICE LOCATION
332 S Orchard Springs Dr.
Suite #110
Pueblo West, CO 81007
Phone Number: 719-569-5959