Dental bone grafting is a surgical procedure that involves adding or transplanting bone tissue to the jaw to increase the amount of bone available for dental implants or other types of restorations. The bone tissue used for the graft can come from the patient's own body or from a donor source.
The bone grafting procedure typically involves preparing the area where the graft will be placed, then placing the bone tissue into the area and securing it in place with stitches, screws, or plates. It may take several months for the grafted bone tissue to fuse with the existing bone and create a solid foundation for dental restorations.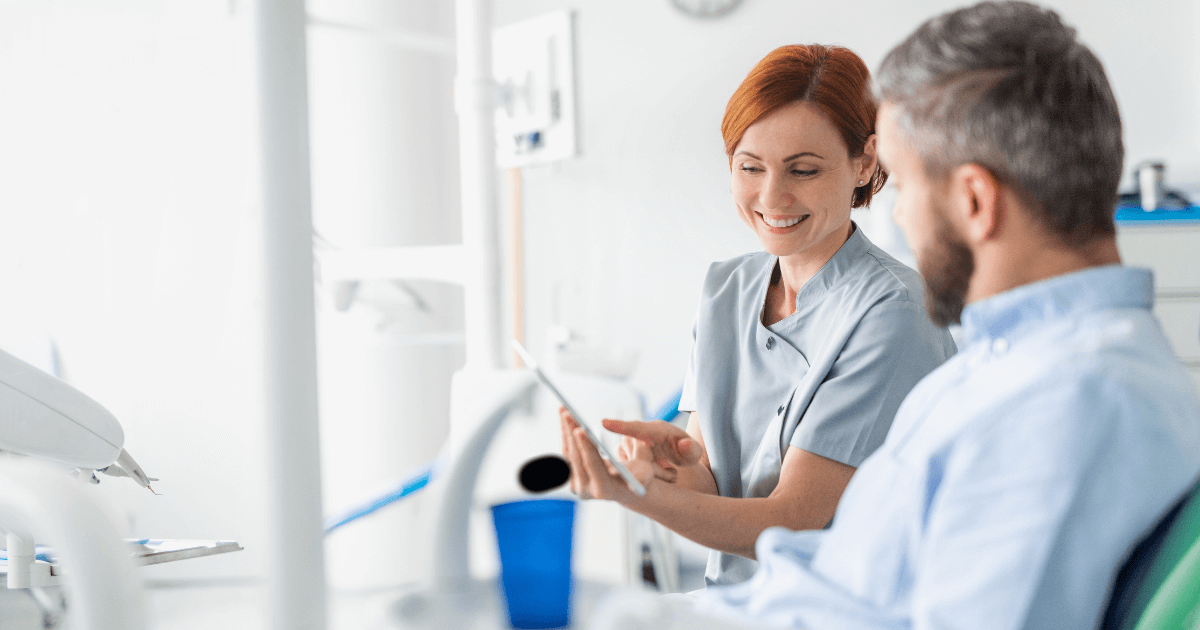 Types Of Bone Graft
‍
Autogenous Bone Grafts:

‍Autogenous bone grafts, also known as autografts, are made from your own bone, taken from somewhere else in the body. The bone is typically harvested from the chin, jaw, lower leg bone, hip, or the skull. Autogenous bone grafts are advantageous in that the graft material is live bone, meaning it contains living cellular elements that enhance bone growth. However, one downside to the autograft is that it requires a second procedure to harvest bone from elsewhere in the body. Depending on your condition, a second procedure may not be in your best interest.
‍
Allogenic Bone:
‍
‍Allogenic bone, or allograft, is dead bone harvested from a cadaver, then processed using a freeze-dry method to extract the water via a vacuum. Unlike autogenous bone, allogenic bone cannot produce new bone on its own. Rather, it serves as a framework or scaffold over which bone from the surrounding bony walls can grow to fill the defect or void.
‍
Xenogenic Bone:

‍Xenogenic bone is derived from non-living bone of another species, usually a cow. The bone is processed at very high temperatures to avoid the potential for immune rejection and contamination. Like allogenic grafts, xenogenic grafts serve as a framework for bone from the surrounding area to grow and fill the void.
Both allogenic and xenogenic bone grafting are advantageous in that they do not require a second procedure to harvest your own bone, as with autografts. However, because these options lack autograft's bone-forming properties, bone regeneration may take longer than with autografts, with a less predictable outcome.
‍
Dr. Cochran would be happy to discuss all grafting options with you at the time of consultation. Experience that matters
Periodontics & Implant Surgery
The Importance Of Teeth For Jaw Bone Health
‍
‍When one or more teeth are missing, it can lead to jawbone loss at the site of the gap. This loss of jawbone can develop into additional problems, both with your appearance and your overall health. You may experience pain, problems with your remaining teeth, and altered facial appearance, and eventually even the inability to speak and eat normally.
In that same way that muscles are maintained through exercise, bone tissue is maintained by use. Natural teeth are embedded in the jawbone, and stimulate the jawbone through activities such as chewing and biting. When teeth are missing, the alveolar bone, or the portion of the jawbone that anchors the teeth in the mouth, no longer receives the necessary stimulation, and begins to break down, or resorb. The body no longer uses or needs the jawbone, so it deteriorates and goes away.
‍
Potential Consequences Of Tooth And Jawbone Loss

– Problems with remaining teeth, including, misalignment, drifting, loosening and loss
– Collapsed facial profile
– Limited lip supportSkin wrinkling around the mouth
– Distortion of other facial features
– Jaw (temporomandibular joint [TMJ]) pain, facial pain, and headaches
– Difficulty speaking and communicating
– Inadequate nutrition as a result of the inability to chew properly and painlessly
– Sinus expansion
How long do dental bone grafts take to heal?
The healing time depends on several factors, such as the type of graft, the area of the graft and your body's healing capacity. In general, it can take between three and nine months for a dental bone graft to heal completely.
What is the success rate of oral bone graft?
Composite bone grafts have 99.6% survival rate and 66.06% success rate and Allografts have 90.9% survival rate and 82.8% success rate as per this study.
What happens if you don't get a dental bone graft?
One of the most common reasons for a dental bone graft is to improve bone density and support for dental implants.
Without a bone graft, there may not be enough bone to support the implant, resulting in implant failure or instability.
Additionally, bone loss can result in the shifting and loosening of adjacent teeth, leading to dental misalignment or further tooth loss.
Furthermore, bone loss can result in changes to the facial structure, including sunken cheeks or receding jawline, which can affect a person's appearance and self-confidence.
Ultimately, the consequences of not getting a dental bone graft can be significant and can lead to a range of oral health and cosmetic issues.
It is important to consult with a dental professional to determine the most appropriate course of treatment and to address any concerns or questions you may have about the procedure.
OFFICE LOCATION
332 S Orchard Springs Dr.
Suite #110
Pueblo West, CO 81007
Phone Number: 719-569-5959